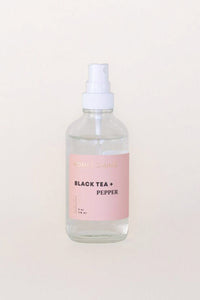 SCENT NOTES: Allspice, Amber, Tobacco + Teakwood

MOOD: Warming, Comforting, Nostalgic
Inspired by our family's love of teatime, this home mist is lightly spiced and cozy as can be.
Feels like still morning moments and curling up with your favorite book.
Shake well to blend before each use. Keep stored at room temperature and away from direct sunlight or any source of heat. Avoid contact with eyes and keep product out of reach of children and pets. Our home mist is best used in interior spaces, though safe for most fabrics we recommend testing textiles in an inconspicuous area first.
Photos via Homecoming