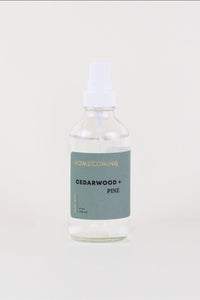 SCENT NOTES: Spruce, Moss, Cinnamon + Spearmint

MOOD: Grounding, Balanced, Connected
This scent is a must for anyone that longs for the great outdoors. Cedarwood + Pine is inspired by the gorgeous, woodsy complexities of the Pacific Northwest, highlighted by the sweet aroma of fresh pine, evergreen, cedar, and hints of dark green moss. Infused with natural essential oil including cedar oil, clove leaf oil, fir needle oil, western red cedar oil, spearmint leaf oil, and eucalyptus leaf oil, Cedarwood + Pine literally brings the great outdoors inside every time you spray this mist in your home. 

Ripe with natural nostalgia, Cedarwood + Pine is reminiscent of towering old-growth forests, rustic cabins, and misty mountain mornings.
Shake well to blend before each use. Keep stored at room temperature and away from direct sunlight or any source of heat. Avoid contact with eyes and keep product out of reach of children and pets. Our home mist is best used in interior spaces, though safe for most fabrics we recommend testing textiles in an inconspicuous area first.
Photos via Homecoming